I recently had the pleasure of sitting down with international motivational speaker and author Thione Niang. He runs organizations that motivate young leaders and also spreads awareness about local farming.
The journey to entrepreneurship
Niang was born and raised in Senegal and came to New York City in 2000 at the age of 22. He eventually moved to Cleveland, Ohio to focus on his education. There is where he also took part in politics and campaigned for Obama.
He eventually began his first nonprofit organization: Give 1, which helps young entrepreneurs and leaders in 34 countries. Niang said that the United States "allowed me to push the limits and do the things that I've dreamed about, and even do the things that I thought were impossible."
Recognizing global issues
Niang now travels between Africa and the United States to work on projects. He told me that he's always asking himself, "Why things are the way they are and how can we change them to the way we want them to be?"
Determined to make a difference, Niang began paying attention to what he ate in Senegal and realized the majority of ingredients on his dinner plate came from overseas. He asked himself, "Why is it that those people are feeding us, and we can't feed ourselves?"
Niang also wondered why the country with one of the youngest populations in the world and stable conditions for agriculture only farmed for six months out of the year. He felt an obligation to step up.
Beginning a local movement
Niang decided to eat locally, open a training school, and recruit farmers. "Because only we can solve the problem."
Niang even opened organic shops with the local farm food. "We have four stores, [and] we're growing slowly," he said.
Wanting to do more
Niang explains that when he was younger, he watched his mom struggle. He initially came to America to get a job so he could support his family.
Niang was denied a VISA three or four times before heading to the states. "Like many Africans," he said, "we come here with empty pockets but a heart full of dreams and love."
Niang also spoke about wanting to do more for his country. It deeply affects him when he sees no decent healthcare in Senegal, hunger, and lack of electricity. "A lot of people are living in darkness," he said. He emphasized that these problems stem from the fact that the country cannot provide the food people need.
Tips for young entrepreneurs
When asked to offer tips to young entrepreneurs,Niang answered, "Perseverance and optimism." He told me that entrepreneurship is difficult and crazy, "but those crazy people are crazy enough to change the world."
We're so glad that Niang took the path to entrepreneurship because he continues to change the world–one local farm at a time.
About Thione Niang
Social entrepreneur, political strategist, youth advocate, and author Thione Niang was born into a modest family of 28 children in Senegal. The visionary leader immigrated to the USA in 2000 with only 20 dollars and worked his way through the hardships while getting involved in his new community. His efforts led him to participate as a community organizer in the historic 2008 presidential elections supporting Democratic candidate Barack Obama and to become national co-chair of Gen44 for the 2012 re-election campaign.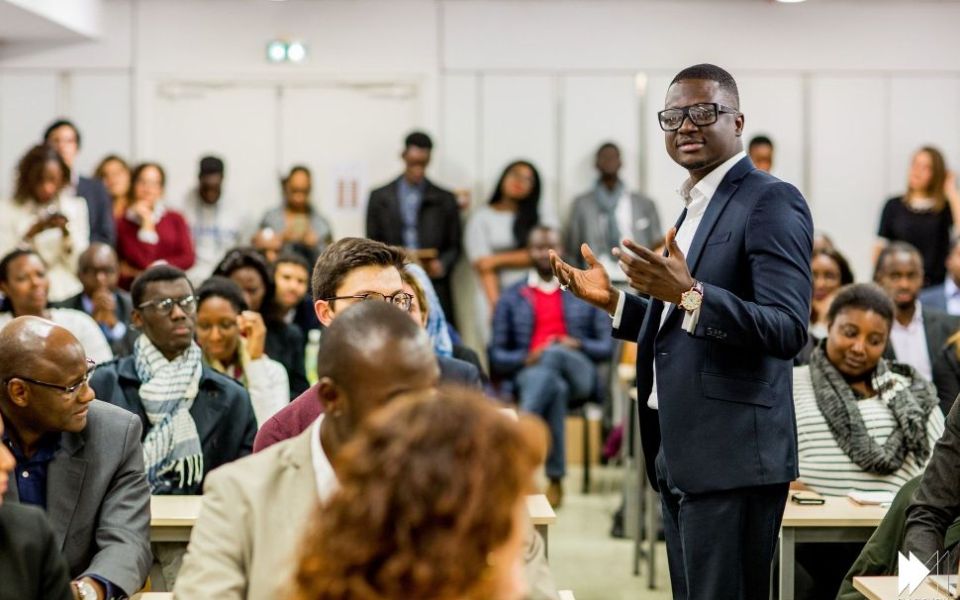 Thione Niang now leads three structurally different, but substantially similar international organizations: GIVE1PROJECT, TNG (Thione Niang Group), and Akon Lighting Africa and Solektra International.GIVE1PROJECT
Created in 2009 by Thione Niang, this institution promotes global leadership and entrepreneurship through its incubation centers and women's empowerment and global leadership programs. GIVE1 is now present in 32 countries around the world, including the United States, France, Japan, Ghana, Guinea (Conakry), Bénin, and Senegal.
TNG (THIONE NIANG GROUP)
Since 2006, the TNG is a government relations, strategy, and public relations firm working to facilitate communication and relations between global organizations and governments. Since its creation, Thione has surrounded himself with experts in public relations, sociology, political science, journalism, and graphic design from around the whole world.
AKON LIGHTNING AFRICA and Solektra International
As an entrepreneur in the energy field, he co-founded Akon Lighting Africa and Solektra International along with the renowned artist Akon and Malian businessman Samba Bathily in 2014. The mission is to provide electricity to 600 million African households and communities through sustainable solar energy. Today, 16 countries benefit from the initiative and more than 5,000 jobs have been created across the continent, enabling a solar academy to open in Mali for the training of young Africans in the field.
By 2015, Thione Niang was appointed by President Obama as ambassador to the U.S. Ministry of Energy. Thione advocates for the inclusion of minorities in all aspects of the energy sector, with a special focus on energy economic development, STEM education, and climate change. He shares his inspiring story with the world in his recent book, Memoirs of an Eternal Optimist.